Building a strong reseller offering is not easy in today's market. Competition is fierce in the software channel environment, and as a result, revenue targets and margins are coming under pressure. End customers are looking for ways to drive down TCOs while extracting more and more value from their VAR partners. The result of this environment is that progressive VARs are continuously on the hunt for ways of providing value to their customer base. Through doing so, the vendor needs to assist in creating opportunities for the VAR to be able to provide additional value offerings over and above the underlying products. This can be a great - and profitable - differentiating factor!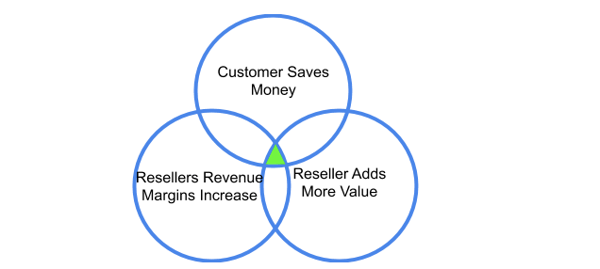 Leads are always on the hunt for the best deal and VARs are always looking for the edge that will help them retain, monetize and grow their customers. The Golden Ven for Reseller Success, as shown above, is to provide a product suite that not only enables the customer to decrease OpEx but also enables the reseller to be able to deliver more on the value offered.
There are some key points that VARs need to ensure their vendors are doing as this will help drive sales and ultimately benefit the VAR and their vendor. Below we cover some of the main considerations, such an alignment, and how to ensure your business achieves these.
1. Partner Relationships
Contracts and targets are important, but good partner relations are the key to success.
A good partnership between a VAR and its product vendor comes down to having the right sales targets. A good sales target needs to be a bit of a stretch for the VAR but should be achievable and should serve as a guide in assessing how sales are going as well as an incentive to deepen the revenue alignment. Regular monitoring, check-ins, or ongoing support from vendors will help with course correction in terms of strategy, assistance or even target setting. These meetings are essential, especially in the early days of the relationship, as they enable constant feedback and strengthen the relationship between the VAR and the vendor.
2. Value and Incentives
Incentives such as SPIFF programs are great value adds to grow partner relationships.
While the main incentives will come in the form of partner margins, co-marketing, rebates, and performance-based tiered benefits, SPIFF programs are also great incentives that vendors sometimes use to encourage VARs sales teams. Good SPIFF programs can drive enthusiasm and delivery without costing the reseller too much. There are of course downsides to SPIFF programs as not all VARs are ready to embrace them. It is important that your vendor incentivizes the right performance delivery and that the program is sustainable and delivers value to both parties in the long run.
3. Market Development
Having the right market development strategy is crucial for success.
Vendors will all too easily set targets for their partners, but the VAR should ask whether their vendor is spending the time to sit with their VAR's to develop a market development plan that aligns to the targets that are being set. VAR's know their market and customer better than anyone else and the vendor should find ways to support the VAR with the development of their go-to-market strategies, assist with customer mining, case studies, use case identification, collateral support, etc.
4. Key Targets
Identifying key targets and goals helps resellers and vendors achieve together.
When vetting the quality of the lead, it is important to understand what kind of lead they are. The lead that any vendor or VAR would prefer is one that is going to provide them with a high LTV (lifetime value), as this means that they will most likely have a low customer churn and the VAR will not have to invest significantly in rebuilding their base.
As any VAR will know, a way to increase the customer LTV is through the delivery and maintenance of excellence in customer support levels. It is really important that your Vendor understands that while short-term revenue targets are important, the quality and potential of the customer is equally so as it can significantly drive up ROI in the long-term. Evaluate the quality of your vendor's product, ask them about their customer churn rates, their experience with expanding revenue with customers and their customer LTV.
5. Vendor Support
Support is crucial through and through.
The support provided by vendors is very important whether it be sales support, training support or marketing support. It is also important that the vendor has clear processes in place for handing off leads to their VAR. There is a small gap where the lead is considered hot so emphasis needs to be given on the importance of a speedy hand-over as you don't want the lead to become cold or abandoned. It is often a challenge for partners to stay on top of all the latest market developments as well as changes in the solutions they sell and implement. Training supplied from vendors needs to be targeted, convenient and applicable to the needs of their and their VARs customers.
Overall, whether searching for, evaluating or working with a software vendor, it is important for VARs to know what they need from their vendors as well as what their vendors are focused on achieving. Choosing the right vendor comes down to whether they have a product that truly is modern and forward-looking and delivers significant value to the client, but equally importantly, whether the product and vendor will assist the VAR in capturing more revenue and higher LTV in the long run.